http://www.bizjournals.com/houston/blog/breaking-ground/2014/08/new-office-building-to-rise-near-exxon-mobil.html
Aug 11, 2014, 12:11pm CDT
New office building to rise near Exxon Mobil campus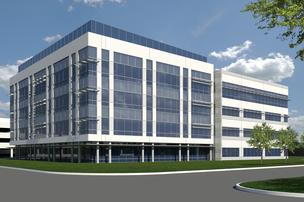 Powers Brown Architecture
The 96,000-square-foot, four-story, Class A speculative office building is slated to break ground in December.
Jenny Agee-Aldridge Reporter-Houston Business Journal
A privately held commercial real estate company is set to develop a low-rise office building to add to its growing portfolio near the Exxon Mobil Corp. (NYSE: XOM) campus.
The Woodlands-based Halberdier Holdings LLC has purchased 2.5 acres at the southeast corner of Hardy Toll Road and Northgate Crossing to build a 96,000-square-foot, four-story, Class A speculative office building. It plans to break ground on the project in December, with a completion date slated for the end of 2015.
Plans call for the building to be LEED Silver certified and include an option to build up to six stories. Houston-based Powers Brown Architecture is the architect. A general contractor has not been selected.
"With its close proximately to so many major thoroughfares as well as to one of the biggest companies in the world and The Woodlands, we think this property is a very rare find," said company Principal Trey Halberdier.
The company also recently closed on 7.3 acres at the northeast corner of Pruitt Road and Budd Road. It is considering various options for the property including a possible multifamily project or a 180,000-square-foot office building.
Halberdier told the Houston Business Journal in February that the company is also developing a 40-acre mixed-use development at the corner of Hardy Toll Road and Riley Fuzzel. Construction on that property should begin next year and include at least 12 build-to-suit industrial office buildings and possibly retail and multifamily components.
Jenny Agee-Aldridge covers commercial real estate and retail for the Houston Business Journal.
Related links:
Industries: